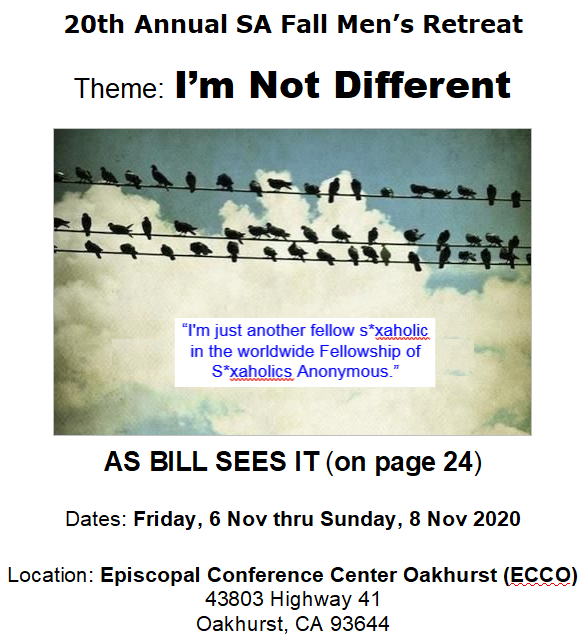 Purpose
The purpose for the weekend retreat is to create the fellowship we crave and to put into action the twelve steps to spiritual progress. No matter what Step you are working on, you will find help and encouragement. We absolutely insist on enJOYing life, so plan on having a great and memorable weekend in the Sierra Foothills.
Note: *If you require funding assistance, petition your local Home Group for sponsorship consideration before registering online
Schedule
The retreat registration desk opens at 4:00 PM on Friday November 6, 2020, with dinner starting at 6:00 PM that evening. The retreat ends at 10:00 AM on Sunday November 8, 2020.
Cost
$140 Standard Registration for a "Dorm" room which includes a bunk bed in a dorm room containing dozens of bunk beds and a group bathroom
$165 Standard Registration for a "Quad" room which includes a bed in a room with four beds and a shared bathroom
$210 Standard Registration for a "Double" room which includes bed in a room with two beds and a shared bathroom
Registration Includes
Friday dinner and fellowship from 5:30 to 7:00 PM (note: Annual ECCO event precludes our use of kitchen & dining hall on Friday evening).
Lodging on Friday and Saturday nights in lodge and dormitories with shared bathrooms.
Saturday Meals: Breakfast, Lunch, & Dinner.
Sunday Meal: Breakfast only
Activities such as hiking and mountain biking
Fire ring (on Friday evening only) for singing, story telling, and lots of fun.
What to bring
Personal items (esp., soap, shampoo, shaver, tooth brush / paste, pillow, etc.); ECCO provides one set of towels & bed linens.
Shoes and clothing for hiking and sports. Bring warm clothes for likely cool weather.
Writing materials and program literature (White Book, Big Book, 12×12, SA's "Step Into Action," etc.)
Sports equipment
Musical instruments (note: If you play a musical instrument consider bringing it and perhaps a "Retreat Band" will materialize!).
Honesty, Open-mindedness, and Willingness (HOW).
Contact Information
If you would like to be of service at the retreat, or if you have general questions &/or registration questions about the retreat, please contact Greg V. at registration@ncmur.org. You might also consider carpooling with members from your regional area.